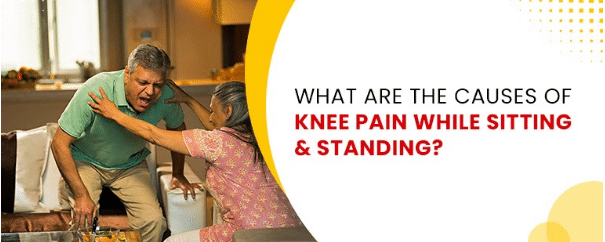 ---
What Are The Causes Of Knee Pain While Sitting & Standing?
Does the back of your knee have pain after sitting down? 
Do you experience excruciating knee pain after sitting then standing?
It might be due to the simplest of activities of your daily routine. You might be worried because of the popping joints in your body. But you need not worry as even the healthiest of the people might experience sudden popping of the joints.
Knee pain while sitting and getting up is one of the most commonly seen issues among every group. But the sudden knee pain after or while sitting is primarily familiar with people over the age of 60. It could concern any element of the knee, including cartilage, patella, knee joint (femur, tibia, etc.), knee cap and ligaments. The mild to severe knee pain after sitting depends on which of these structures are involved and how. It might be because of a torn ligament, structural issues in the bones, etc.
One of the most popular questions asked by our older patients is, "Why do I feel pain in the back of my knee after sitting?". Of course, it might be due to the long-term effects of a particular medical condition. But it is primarily because of the natural ageing among the elders.
Why Do Healthy Knee Joints Cracks?
Age develops newer issues with the body structure. One of the areas most commonly affected in the knee is the cartilage. It is the tissue that stops a bone from coming in direct contact with another. So while moving around, the rough areas on the cartilage cause the bones to move together, resulting in popping sounds. It sometimes even causes a sudden knee pain after sitting and getting up. 
A few common medical conditions might result in you having knee pain while sitting down and getting up, including conditions like knee osteoarthritis and Patellofemoral pain syndrome.
In patellofemoral pain syndrome, you tend to feel pain behind the knee after sitting down, specifically around the area where the kneecap or patella meets the thigh bone or femur.
Here Are A Few Symptoms Of The Patellofemoral Pain Syndrome:
Pain in the knee joint after sitting,

Discomfort and pain under the patella or kneecap,

Constantly increasing knee pain due to prolonged sitting, standing or any other activity.
An issue we often get around our hospital is "my knee hurts after sitting". However, this pain could also be due to the two main kinds of arthritis in the knee. These are rheumatoid arthritis, which is autoimmune and knee osteoarthritis, which is degenerative.
Here Are A Few Signs Which You Might Experience Due To Knee Osteoarthritis:
Continuously increasing pain in the knee joint while sitting, standing up or doing any other activity.

Warm joints,

Stiff knees with swelling and light bruising.
If you are experiencing sudden sharp pain in the knee while sitting or standing up, consult with the experts at Germanten Hospital.
What Are The Frequent Causes Of Knee Pain After Getting Up From Sitting?
Knee pain can be treated with the help of various therapies and treatments, but they all depend upon the symptoms and, more importantly, the causes. Extreme knee pain after sitting is most probably due to a prior wound or injury. However, here are a few other causes that can result in knee pain due to sitting:
Body Weight:

The most important cause of knee pain after sitting down or doing any other activity is your body weight. Too much body weight not only causes significant medical conditions it also affects your overall structure of your body, causing pain in your knees.

Lower Flexibility:

Having an inactive lifestyle leads to a lack of exercise and workouts, which affects the body's flexibility. It results in having body pains, especially in the knee.

Sports:

Often, the body pains are due to high-activity sports and over-exercising. It highly affects the knee joints.

Lack Of Nourished Meals:

For proper maintenance of the muscles and joints, the body requires a well-nourished meal; otherwise, you might experience knee pains.

Health Conditions:

There is also a case of conditions like rheumatoid arthritis, osteoarthritis, etc., among older people.
Consult with the experts at Germanten Hospital if your knee hurts while sitting down or getting up.
Why Choose Us?
The German spirit of "Precision and Perfection" is followed to the core at Germanten Hospital. Dr Mir Jawad holds expertise with advanced German multi-speciality orthopaedic technology, and partnering up with the experts from Germany ensures the best possible care for our patients. 
Our experienced professionals have treated and provided orthopaedic patients with outstanding and cost-effective healthcare for more than 45 years.
Here Are A Few Accreditations Obtained By Germanten Hospital:
NABH Accreditation:

Obtaining accreditation with National Accreditation Board For Hospitals & Healthcare Providers (NABH) is a privilege. The board confers this accreditation upon a thorough inspection of the staff and facilities possessed by the hospital, clinic, etc. 

ISO Accreditation 9001 : 2008:

Neither Germanten Hospital nor any of our employees have never made any illegitimate claim regarding any step of the medical process. That is why we are a member of the International Society Of Orthopaedic Centres (only 2nd Hospital from Asia with full membership).
Along with the accreditations, Germanten Hospitals have been conferred with various recognitions for our service to society:
We are the first hospital in Asia to have the German Joint Replacement Technology.

Dr Mir Jawad Zar Khan has been highly regarded for performing 10,000+ joint replacement surgeries.

We are regarded for the highest number of joint replacement surgeries per year in South India.

We have performed more than 2000 Joint replacement surgeries in 2 years. 
So consult with Dr Mir Jawad Zar Khan at Germanten Hospital if you want the best knee replacement surgery followed by unparalleled aftercare.