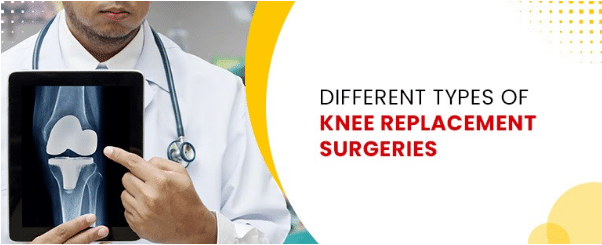 ---
Different Types Of Knee Replacement Surgeries
Knee pain is a common problem in older adults. It hampers the ability to walk, stand, and do routine chores. Knee problems can be caused by arthritis, ageing, normal wear and tear, and traumatic injury. There are different types of knee surgery that one can undergo to improve their condition. 
Our knee is made up of ligaments, tendons, bones, and cartilage. You can experience pain, stiffness, swelling, and bruising in the case of an injured knee. Knee surgery, which is performed to heal the damaged part, has gained popularity in recent times. Let's read about the different kinds of knee surgery that one can undergo.
Types Of Knee Replacement Surgery
Knee replacement surgery is a surgical treatment to remove the knee's damaged part and replace it with artificial components. It is also termed knee arthroplasty. With the advancement in medical science, knee replacement surgery can now be performed in a minimally invasive manner. The major types of knee surgery procedures are:
Partial Knee Replacement
It is helpful in case of partial damage to the knees. It is an outpatient procedure performed under anaesthesia. The damaged bone or cartilage is removed from the knee. You may require a few weeks to recover completely. Small incisions are made while performing the surgery. The tissues heal quickly, and the blood loss is low compared to total knee replacement surgery. You will require a walker or cane to provide support while walking on your new knees.
Total Knee Replacement


It is one of the types of knee replacement surgery that involves replacing and repairing damaged joints. The damaged part is replaced with an artificial part which is made of plastics and metals. The types of knee replacement joints that are removed and replaced with a prosthetic part include shin bone's top, thigh bone's bottom, kneecap, connective and supportive tissues. The recovery is slow, and you may require a walker for support. You will also need to stay in the hospital after the surgery. It is crucial to undergo physical therapy for the new knee. Avoiding the exercises can lead to blood clots, chronic knee pain, and nerve damage.

Robotic Partial Knee Replacement – One Of The New Knee Prosthesis Types
The robotic knee replacement prosthesis types make use of MAKOplasty to give an effective result. MAKOplasty is a robotic surgery that involves a CT scan. The CT scan allows the surgeon to build a virtual model of your knee. While performing the surgery, the surgeon uses a robotic arm for precise results. The process is tailored to the needs of the patient and ensures speedy recovery. It also reduces the risk of trauma by providing robotic assistance.
Osteotomy Knee Surgery


One of the knee operation types is osteotomy knee surgery. In this surgery, either the tibia or femur bone is reshaped to relieve pressure on the knee joint. It is helpful for people who have early-stage arthritis. Once you undergo the procedure, it improves your movement and knee's functions. You can go home after two days of the process. Taking support of crutches helps in the initial days of the surgery.

Knee Revision Surgery
If you have undergone knee replacement surgery previously, even then, you may experience discomfort or pain in your knee. It happens because of the wear out of the previous prosthesis. Knee revision surgery is complex to perform as the surgeon needs to remove the existing implant. In addition, you may need a bone graft to support the new prosthesis and encourage bone growth. It is a common knee joint surgery type in the case of an existing prosthesis.

The different types of knee replacement implants have helped in treating knee pain. However, the knee is one of the bones that can get damaged easily. Your profession also decides the extent of your injury. For example, knee injuries are common in a sportsperson. The overuse of certain tendons and cartilage may cause damage to the knee and adjoining region.

If you have experienced any discomfort or pain in your knee, you may contact Germanten Hospital. We have a team of expert medical care professionals to treat different types of knee replacement joint problems, we help you get a pain free walk.

Why Choose Us?
The German spirit of "Precision and Perfection" is followed to the core at Germanten Hospital. Dr Mir Jawad holds expertise with advanced German multi-speciality orthopaedic technology, and partnering up with the experts from Germany ensures the best possible care for our patients. 
Our experienced professionals have treated and provided orthopaedic patients with outstanding and cost-effective healthcare for more than 45 years. 
Here Are A Few Accreditations Obtained By Germanten Hospital:
NABH Accreditation:

Obtaining accreditation with National Accreditation Board For Hospitals & Healthcare Providers (NABH) is a privilege. The board confers this accreditation upon a thorough inspection of the staff and facilities possessed by the hospital, clinic, etc. 

ISO Accreditation 9001 : 2008:

Neither Germanten Hospital nor any of our employees have never made any illegitimate claim regarding any step of the medical process. That is why we are a member of the International Society Of Orthopaedic Centres (only 2nd Hospital from Asia with full membership).
Along with the accreditations, Germanten Hospitals have been conferred with various recognitions for our service to the society:
We are the first hospital in Asia to have the German Joint Replacement Technology.

Dr Mir Jawad Zar Khan has been highly regarded for performing 10,000+ joint replacement surgeries.

We are regarded for the highest number of joint replacement surgeries per year in South India.

We have performed more than 2000 Joint replacement surgeries in 2 years. 

So consult with Dr Mir Jawad Zar Khan at Germanten Hospital if you want the best knee replacement surgery followed by unparalleled aftercare.