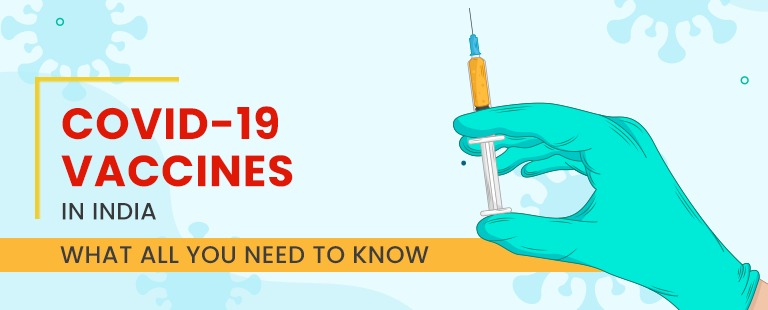 ---
Covid 19 Vaccines in India
COVID-19 vaccines in India
With the whole world battling against Coronavirus, vaccines have emerged as the holy grail. However, the second wave of the virus has hit the country hard. India breached nearly 1,00,000 daily marks for coronavirus cases on 10 May 2021. The government has stepped up the vaccination drive and now everyone above the age of 18 to be eligible to get a vaccine from 1st May, 2021
Let's discuss the types of Coronavirus vaccines in India and the differences between them.
Types of COVID vaccines
There are two vaccines that are being administered in India – Covishield and Covaxin. Covishield is a vaccine from Serum Institute of India and is based on a viral vector platform that involves using ChAdOx1, a chimpanzee adenovirus vector modified for carrying protein spiked with coronavirus into human cells. It is the adenovirus vector platform that gained traction during the rise of Ebola. Covaxin, on the other hand, is developed on an old platform called inactivated whole SARS-CoV-2 virion that is also used for making polio vaccines. Under this method, the disease-producing capacity of the virus is inactivated.
Both Covaxin and Covishield are intramuscular injections administered in two doses. Covaxin, the vaccine from Bharat Biotech has been approved only in emergency situations and for restricted use in the public interest, in clinical trial mode meaning that the vaccine recipient must give consent. After receiving the Covaxin shots, the recipient has to be monitored. The interval between both doses has to be 28 days. Covishield has been approved for people over 18 years old while Covaxin is approved for 12 years and above. Both vaccines must be stored at household refrigerator temperature (2-8 degrees centigrade).
Eligibility to take the vaccine
The COVID vaccinations in India for the general public began on 16th January 2021. The second phase began on 1st March 2021 that opened up vaccine drive for people over 60 years of age and people over 45 years of age with comorbidities. On 1st April, the third phase of vaccination began that extended the vaccination coverage to people over 45 years of age. In the fourth phase, everyone above the age of 18 will be eligible to get vaccinated from May 1, 2021.
Do's and Don'ts before getting vaccinated
Talk to your doctor before you get vaccinated, especially if you are above 45 and have a pre-existing medical condition such as diabetes, renal illnesses, or diabetes to make sure that the vaccine is safe for you. According to the Health Ministry of India, anyone with hemophilia must be under the supervision of a physician during the vaccination.
Before you get your vaccine, you should also get a clearance for the medications that you are taking that might increase the possibility of an allergy reaction.
People with a history of delayed or immediate onset anaphylaxis or allergic reaction to injectable therapies, pharmaceutical products, or food items should not get vaccinated.
Do's and Don'ts after getting vaccinated
Always wear a mask even after getting vaccinated. You will be fully immunized only 2 weeks after you have received your second vaccine shot. So, you have to still be careful during this time period.
You can start taking care of someone who has been infected by the virus. This is the reason why frontline healthcare workers were administered the shots first. While you will still have to follow basic precautions, your chances of getting infected will be bleak.
After you have received a second shot of the vaccine and are fully immunized, you won't have to practice quarantine measures such as getting tested and isolating yourself after you have had close contact with the COVID-19 patient. However, if you have comorbidities, you should still get tested and follow basic quarantine measures.
That being said, the immunity with the vaccine is not yet fully understood. That is why it is best that you take utmost precautions and follow key precautions while outside.