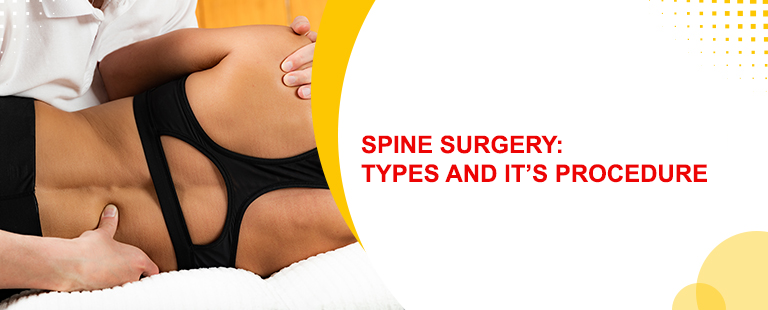 ---
Spine Surgery: Types And It's Procedure
Is surgery a must to cure the problem, or would a spine treatment without surgery be more feasible? Such questions could arise when it comes to spine surgery. If at all surgery is necessary, of the types of spine surgery, which one is better – keyhole surgery or traditional spine surgery? Back surgery helps to treat spine problems and relieve back pain, but surgery is not always necessary. Many of the back issues resolve with no external aid or can be treated with conventional spine treatment without surgery.
When do you need spine surgery?
When a person suffers from symptoms related to spine issues, they need to get evaluated by a primary care physician. For example, if diagnosed with back or neck pain, the orthopaedist advises them to maintain stable physical posture or activity, proper weight, and diet. If the problem persists, physical therapy, OTC medicines, or anti-inflammatory medication is the next step or treatment suggested by a doctor.
Types of Spine Surgery Procedures
Severe spinal conditions are treated using various types of spine surgery:
Decompression procedures:
These spine surgery types try to relieve symptoms caused due to pressure or to decompress the spinal cord that has been compressed. Loose ligaments, thickening of ligaments, bulging discs, and new bone growth can shrink the space of the spinal canal and the spinal nerve openings, causing pain. In addition, it may lead to paralysis due to excess pressure on spinal nerves, along with causing bladder and bowel movement problems.
Only fixation (spinal instrumentation) procedures
It is one of the spine surgery types that utilise devices during spine surgery. This surgical procedure involves implantation on titanium or titanium alloy, steel or non-metallic spinal instruments in spines. Different types of medical implants are available to treat spinal disorders in people of all ages. However, it cannot provide a permanent solution to spinal instability unless spinal fusion is done.
Spinal Fusion Procedures
Spinal fusion is one of the spine surgery types in which two bones are fused using a bone graft to grow the bony surfaces together. Its medical term is arthrodesis. During the primary surgical procedure, a bone graft is taken from an autologous patient or from others called allograft bone. In some foreign centres, instead of bone grafting, Bone morphogenetic protein is being used. It is still in the evaluation phase. 
Both Spinal Fusion and Spinal Instrumentation Combined
Spinal fusion, along with spinal instrumentation, is required for the successful correction of spinal deformities. The instrumentation renders stability and aids in maintaining the correction when the fusion of bones is still happening. Internal fixation of devices in the spine leads to an increased rate of solid arthrodesis. The spinal instruments will also fail due to repeated stress if the spinal fusion fails.
Spiral Correction Procedures for Deformities like Kyphosis and Scoliosis
A deformity is any spine structure alteration compared to the standard shape. A spinal deformity may develop because of any condition causing curvature and twisting of the spine- however, there are many procedures to correct mild to extreme spinal deformities. Some of the main types of spine surgery include osteotomy, spinopelvic fixation, pedicle subtraction ostomy, and vertebral column resection. These procedures differ from person to person.
Osteotomy involves removing bone from the deformed vertebral column. This procedure is performed at different levels, and about 10-20 degrees of correction are made at every level. Therefore, it is used to rectify the long curves of kyphosis or ankylosing spondylitis condition. 
The pedicle subtraction osteotomy is similar to the osteotomy procedure. Ankylosing spondylitis, flatback syndrome, angular kyphosis, and a few c-shaped scoliosis.
The vertebral column resection (VCR) removes the entire vertebra to correct and stabilise the spinal cord. This procedure is more complex and needs professionals with rich expertise and experience. The removed vertebra is replaced with spinal instruments such as bone grafts and cages. A system coupled with a screw and rod implanted in the spine helps restore stability when the bone graft is healing. This procedure can yield nearly a correction of 80 degrees or more. 
If you are looking for spine treatment without surgery, the experts at Germanten Hospital might be able to help you with little to no complications. So book an appointment at Germanten today!