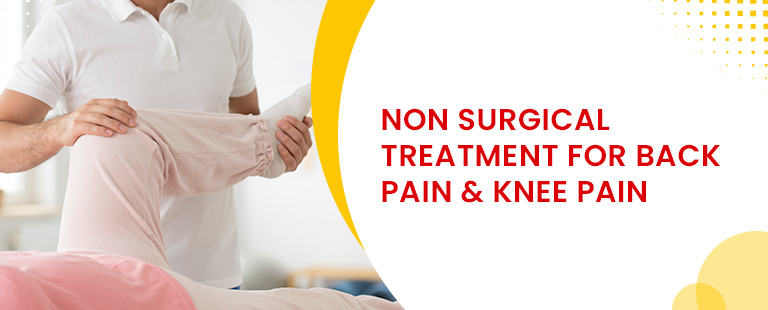 ---
Non Surgical Treatment For Back Pain And Knee Pain
Non Surgical Treatment For Back Pain And Knee Pain
Causes of Back Pain
Chronic back pain is generally an age-related issue. However, it can also be caused by some prior injury. Some causes of back pain are:
Spinal stenosis is a condition that arises when the spinal canal becomes narrow. 

Arthritis of the spine is the gradual thinning of cartilage inside the spine.

Myofascial pain syndrome is unexplained pain and tenderness in muscles. 

Disc problems such as herniated and bulging discs. 
It is often difficult to know the exact causes of back pain. If all the diagnostic options have failed, your doctor might recommend you to a back pain specialist. However, one should not make any hasty decisions and undergo extensive medical procedures without knowing the causes of the back pain. 
If the source of your pain is unknown, the suitable option is to choose non-surgical methods and reduce the pain. So come over to Germanten Hospital to understand the causes of your back pain and get a suitable treatment accordingly. So visit now to get rid of frustrating pain. 
Non-surgical Treatment of Chronic Back Pain
There are various non-surgical treatments that your doctor might prescribe to treat back pain. Some of them are mentioned below:
Physical TherapyIt is a therapy that includes chronic back pain treatments. Exercise is one of the first things you should do to treat common pain in the back. Always take guidance from your physician or spinal therapist. It is to be remembered that the effectiveness of the exercise varies from person to person. The exercise needs to be structured to treat specific symptoms and conditions. You should also do exercise at your home.
Physical therapy that includes chronic back pain treatments are: 
Retraining posture

Testing pain tolerance

Stretching and flexibility exercise

Aerobic exercises

Core strengthening

Mindfulness and meditation
Chronic back pain can affect physical and emotional well-being. For example, it can lead to frustration, irritability, depression and other psychological conditions. To treat them, you may be recommended meditation, yoga, tai chi, and other cognitive and relaxation therapies. 
Diet
A diet high in trans, sugar, or processed food can be highly inflammatory. Therefore, they can contribute to your back pain. So it would be best to consult your doctor or dietician to know whether they are responsible for your pain. A healthy diet can help you maintain an optimum weight putting less pressure on the spine and reducing back pain.
Lifestyle Modification
Having back pain can be an alert sign of your body to bring some changes in your lifestyle. It becomes important to accept some limitations and adapt to modifications. For example, do not bend for a long time, like while mowing the lawn or carrying a grocery.Make a note of all the activities that can worsen your common pain in the back. It will prevent the issue from advancing and becoming worse.Another necessary change is to quit smoking, as nicotine can worsen pain and hinder healing.
Injection-based Treatment
Various injection-based solutions are available to treat back pain. Nerve blocks, nerve ablation and epidural steroid injections are a few of them. Injections can offer temporary relief when the source of pain is identified

.

However, they should not be used as a long-term solution, and above all, it is important to consult your doctor before using any kind of injection.
Alternative Treatment
Alternative therapy includes chronic back pain treatments. Some of them are acupuncture, massage, electric nerve stimulation, biofeedback, and laser therapy. They help to relax the muscle and thus provide relief from the pain. It is best to talk with your spine specialist and know which alternative therapy will work best for your chronic back pain.
Pharmacological Treatment
Analgesics, muscle relaxants, and anti-inflammatory drugs are some medications that can help provide relief from back pain. However, these drugs generally have side effects and are thus not recommended for prolonged use.
If you have a common pain in your back, there are several non-surgical treatments that you can go for. These treatments can help bring some positive changes to your lifestyle. Our experts use the latest facilities and advanced techniques to help provide high-quality treatment. So for an excellent consultation and back pain treatment, come to Germanten Hospital.