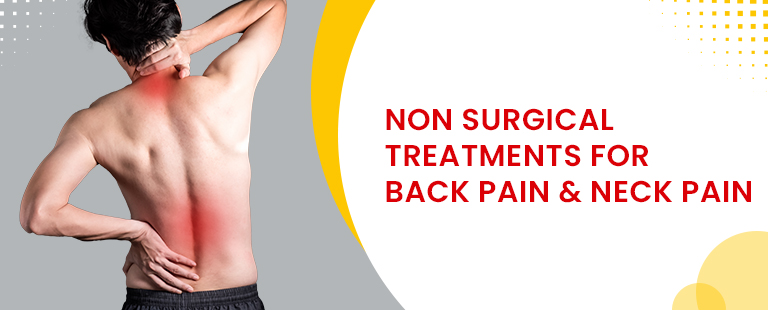 ---
Non-Surgical Treatments for Back Pain & Neck Pain
Non Surgical Treatment for Back Pain 
Long-term back pain can be challenging to be treated by doctors. However, back pain can be treated without surgery using spinal manipulation, acupuncture, and lifestyle changes. 
The reason behind the development of back pain might be a muscle strain caused by heavy lifting or an accident. Other times, arthritis, osteoporosis, or scoliosis can cause back pain.
Below are the details of methods for non surgical treatment for back pain:
 Spinal Manipulation

:

One of the non surgical treatments for back pain is spinal manipulation. Also known as chiropractic manipulation, this method involves using the hands to adjust, massage or stimulate the spine.

While this method seems effective, it is not meant for everyone. People with osteoporosis, arthritis or spinal cord issues must avoid this method.

Acupuncture

:

It is a traditional Chinese medical practice in which an acupuncture practitioner inserts thin needles into specific points on the body.Acupuncture may help revive the low back muscles and relieve pain in people suffering from low back pain.

Acupuncture also provides long-lasting relief for chronic pain. It is one of the preferred methods which involves spine treatment without surgery.

Weight loss

:

The back muscle, bones, and joints work hard to provide maximum support to the body. Being overweight can trigger back pain due to the increased pressure on the spine and back muscles.Losing excess weight could help reduce some of a person's back pain if weight is a contributing factor. An overweight person may work with their doctor to lose weight.
It is one of the simple methods of non surgical treatment for back pain.
Anti-inflammatory diet

:

According to some studies, higher levels of inflammation are closely linked with certain types of chronic pain. Inflammation is caused by many factors.One of the ways to reduce inflammation is to consume a non-inflammatory diet. An effective spine treatment without surgery.

Correcting posture

:

Having an appropriate posture may help to reduce back pain. Conversely, incorrect back posture might have caused back pain for some people.In one of the studies, it was found that participants who completed an exercise program for 8 weeks experienced relief from back and shoulder pain. It is one of the best methods of non surgical treatment for back pain.
In some cases, one may consider renovating their workspace if it does not have proper ergonomics. It helps in effective spine treatment without surgery. Germanten Hospitals provide you with personalized remedies for back neck pain. They also provide effective neck pain treatment.
Non-Surgical Treatment for Neck Pain
If you suffer from long-term neck pain but are not ready to have surgery, there are non-surgical treatment options that may eradicate your pain. Below are the five ways to overcome neck pain using methods involving non-surgical treatment for neck pain.
Understanding the main reasons can help you approach better non-surgical treatment. 
Before agreeing to undergo surgery, it is better to try a non-surgical approach. Five non surgical treatment options include 
Pain management

: Controlling your pain may heal your body naturally. NSAIDs, narcotics, or steroidal injections, combined with rest, may enable you to get rid of pain in future.

 Rest

: Simply resting your neck enables the muscles to relax and nerves to turn normal. Avoid the activities or positions that increase the pain. Resting is one of the best ways that involves

non-surgical treatment for neck pain

.

Physical therapy

: Strength training, increasing flexibility, and maintaining proper posture can improve your neck health and reduce neck pain caused by muscle pain. These things can be learned by a certified therapist. An effective

neck pain treatment.
Manual manipulation

: A chiropractic specialist manually adjusts your neck to reduce nerve pressure and alleviate sore muscles.

Alternative therapies

: Therapies such as massage and acupuncture improve blood flow, relax tensed muscles and reduce symptoms. These are the methods involving

non-surgical treatment for neck pain.
Non-surgical methods are the better way to deal with neck pain as they prevent you from undergoing surgery. Instead, consult a certified specialist in spinal surgery and one who can provide you with a range of personalised therapies. 
If surgery becomes inevitable, consult a physician who can perform surgeries and also can provide therapies as remedies for back neck pain.