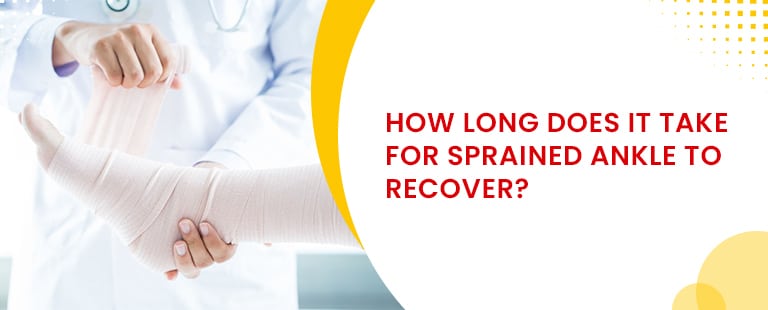 ---
How Long Does It Take For Sprained Ankle To Recover?
Sprained Ankle Recovery Time 
Having an ankle sprain is quite a common medical affliction around the world. However, when it comes to recovery time, everyone will have a different experience. For example, a twisted ankle can have a healing time of around 2 to 3 weeks if the sprain is mild, and the pain can last up to 4-5 months if the sprain is severe. 
Doctors come across several ankle sprain patients every day. It is one of the most common and inevitable structural injuries encountered by people of every age. Everyone gets an ankle sprain at least once, and if you live an active lifestyle, you are bound to experience it multiple times. Healing of every type of sprain requires different intensities of attention and care in different patients. It means that your twisted or rolled ankle recovery time might vary from other people. The time duration for healing will also vary according to the cause of the sprain and its extent. 
If the sprain is mild or even moderate, you can treat it right at your home with remedies like the RICE method. First off, if you are looking for a mild ankle sprain recovery time as short as it can be, you should sit down and take the pressure off your ankle. Then, wrap it with compression and elevate it over the position of your heart. Further movement after the sprain will only damage your muscles.
As mentioned earlier, the sprained ankle healing time depends upon the type of sprain you have suffered. Here are the types of ankle sprains:
Grade 1 Sprain:

It is a minor type of sprain that occurs when you stretch your muscles while performing the daily routine or light activities like walking or jogging. You will feel a little pain and swelling (in some instances) due to stretching in your muscles, but it will not hinder your physical abilities. The grade 1 sprain due to injuries like twisted ankle will have a recovery time of around two weeks. But it can go for over a month if you don't take precautions. Home treatment will be enough for a grade 1 sprain. But do not mistake home treatment for "nothing". Otherwise, the negligible pain can become unbearable in no time. The most important thing you need to remember while in recovery is to stay off your ankle. 

Grade 2 Sprain:

As the name suggests, the grade 2 sprain is more severe than the grade 1 sprain but is better than the grade 3 sprain. In case of this type of sprain, you will immediately see swelling along with a bruise following soon after. In case of a grade 2 sprain, you will experience moderate pain and swelling in the joint, along with a general instability in your body. Although you might not want to walk or move when you have a sprain, there is a good chance that you will stumble or will be unable to walk if you try to. A grade 2 sprain due to a rolled ankle might have a healing time of between 6 and 8 weeks. A grade 2 sprain might be due to a ligament tear. That's why the treatment for it should be performed under the observation of a medical professional. 

Grade 3 Sprain:

Finally, a grade 3 sprain is more severe than both grades 1 and 2. As this kind of sprain is usually due to a ruptured ligament and can lead to permanent damage, having a home treatment is out of the question. The swelling in your ankle joint, in this case, will be quite extensive. Due to pain, you will have quite an instability in your joint, rendering you unable to walk or do several routine activities. A severe ankle sprain can have a recovery time of 3 to 6 months, and you will need to stay off your feet for a considerable amount of time. 
If you have any further questions regarding ankle sprain and the recovery time associated with it, you can have a consultation with the experts at Germanten Hospital. We will explain everything about the recovery process and help you on your feet faster. So book your appointment today!
WHY CHOOSE US?
Germanten Hospital has been one of India's leading facilities for various medical treatments. Under insightful leadership, we have acquired excellence when it comes to treatments in neurology, plastic or cosmetic surgery, orthopaedics and reconstructive surgery. 
Dr. Mir Jawad Zar Khan has led our hospital to the forefront of the medical industry. He has experience of 20 years in orthopaedics. His alma mater is Osmania University, where Dr. Jawad achieved a gold medal for his excellence in education. He then completed advanced training in the Germany. 
Dr. Jawad was awarded the "Best Doctor" by Shri Roshaiah Garu, the Former Gov. of Tamil Nadu and former CM of Andhra Pradesh. He was also felicitated with the Vaida Ratna Award in 2019 by Shri Etala Rajendra, the honourable health minister of Telangana. In addition to that, Germanten Hospital also received an award of "Best Orthopaedic Hospital In South India" from the Economic Times Group in 2021. 
We have gained access to state-of-the-art medical technology and the latest advanced equipment, which has proven to be quite beneficial for our patients.