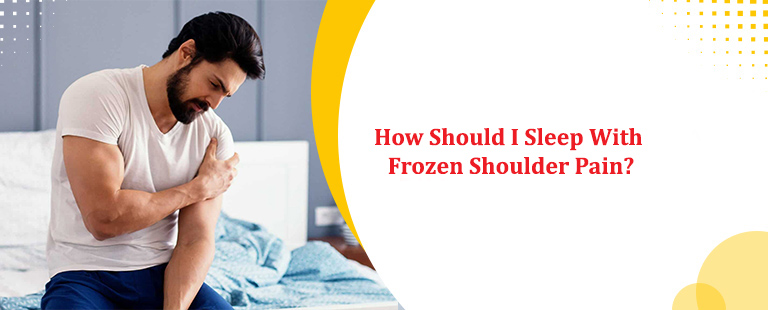 ---
How Should I Sleep With Frozen Shoulder Pain?
How To Sleep Better With A Frozen Shoulder?
Frozen shoulder is a widespread orthopaedic affliction, which causes shoulder pain. Sleeping with this shoulder pain can be very difficult and uncomfortable. In addition, it actively prevents you from falling asleep after you wake up. So we will tell you what a frozen shoulder is and how to sleep with it. 
Frozen Shoulder
An orthopaedic condition due to which your shoulder capsules gradually become stiff and painful is called frozen shoulder. The pain due to this issue can become quite sharp and persistent and interfere with your sleep. It will also render you unable to perform your daily activities, which may require you to use your hands. So your functional ability takes a massive hit due to this condition. 
During frozen shoulder, several patients have reported that the pain is okay during the day because you are busy with your work or performing necessary routine chores, so you forget about them. But it may make sleeping, especially on your shoulder, quite difficult and uncomfortable. Moreover, the pain becomes worse at night. Fortunately, there are several ways to sleep comfortably at night, even with frozen shoulders.
Why Does The Pain Due To Frozen Shoulder Become Sharper At Night?
Not just frozen shoulders, but almost every inflammatory orthopaedic condition becomes more painful at night. The reason behind that is your blood flow, which slows down at night. Due to that, the water in your body can not be filtered by the kidney as quickly as it should be. It leads to water retention in your whole body, which increases the internal pressure on the nerves and organs, and your body swells up by the slightest, quite quickly. 
A person suffers from frozen shoulders due to inflammation in their adhesive capsulitis. But the high pressure in their body increases the inflammation in their shoulder, significantly sharpening the pain at night. Due to this reason, the pain increases at night in the case of almost all inflammatory orthopaedic conditions. If you are wondering how to sleep with frozen shoulder pain, here are some tips.
Tips For A Good Sleep During Frozen Shoulder
Here are a few resulting tips that will help you be comfortable and fall asleep during frozen shoulder:
Take prescribed or OTC medications that can help you alleviate inflammation and pain (anti-inflammatory and analgesic medications). But do remember to take them an hour or so before you go to sleep to give it some time to start the action. 

Stretching exercises can help. Your muscles become tight from working all day. So performing light stretching will help you relieve those tight muscles and reduce that stiffness to some extent. It will, in turn, alleviate the pain and inflammation to provide you with some level of comfort at night. Although stretching exercising may not be a permanent solution to stiff adhesive capsulitis, it will surely help you fall asleep comfortably.

Rest your shoulders during the day to ensure there is as little pain as possible at night. Refrain from performing activities that require even mild or moderate levels of shoulder strength. It will help you curb the inflammation and pain to reduce the effects of the frozen shoulder at night.
Other than these tips, you may want to consult with your orthopedist as soon as possible for a treatment for this affliction. 
Sleeping Positions For Frozen Shoulder
Although it may seem like there are no direct effects from this condition, your ability to perform some of the simplest tasks would be limited, such as sleeping. So here are a few positions you can try to keep the pain at its lowest:
If you prefer sleeping on your back, you may put a pillow under you to prevent rolling on your affected shoulder. 

You may also try sleeping on your unaffected shoulder with a pillow hugging you. It will again ensure that you don't roll onto your injured side.
If you wish to have more info about how you can sleep comfortably with a frozen shoulder, or undergo a treatment, you may consider consulting the experts at Germanten Hospital. We are also considered among the best hospitals for frozen shoulder treatment. So book your consultation today!
WHY CHOOSE US?
Germanten Hospital has been one of India's leading facilities for various medical treatments. Under insightful leadership, we have acquired excellence when it comes to treatments in neurology, plastic or cosmetic surgery, orthopaedics and reconstructive surgery. 
Dr. Mir Jawad Zar Khan has led our hospital to the forefront of the medical industry. He has experience of 20 years in orthopaedics. His alma mater is Osmania University, where Dr. Khan achieved a gold medal for his excellence in education. He then completed advanced training in the USA and Germany. 
Dr. Mir Jawad Zar Khan was awarded the "Best Doctor" by Shri Roshaiah Garu, the Former Gov. of Tamil Nadu and former CM of Andhra Pradesh. He was also felicitated with the Vaida Ratna Award in 2019 by Shri Etala Rajendra, the honourable health minister of Telangana. In addition to that, Germanten Hospital also received an award of "Best Orthopaedic Hospital In South India" from the Economic Times Group in 2021. 
We have gained access to state-of-the-art medical technology and the latest advanced equipment, which has proven to be quite beneficial for our patients.