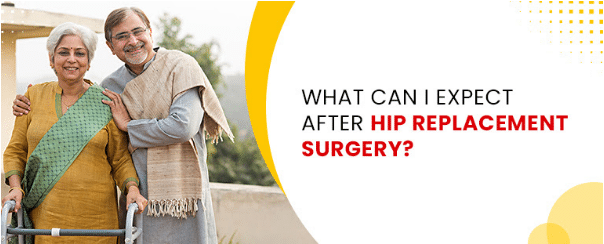 ---
What Can I Expect After Hip Replacement Surgery?
'What can I expect after my hip replacement surgery?' is one of the most commonly asked questions. Although the recovery process is different for each person, certain milestones remain common to all. 
Hip Replacement Surgery And What To Expect!
Here are some details below!
Immediately After My Hip Replacement Surgery What Should I Expect?
Immediately after the surgery, you are sent to a recovery room where the staff will monitor your vitals. The nurses will also ensure that no fluid enters your lungs until the anaesthesia wears off. 
You will be given pain medication, blood thinners, and some compression stockings for your legs to avoid blood clots in the recovery room. You are shifted to the hospital room once the anaesthesia wears off. Once you are completely awake, you can try sitting up and walking with the help of a physical therapist. 
Hip Replacement Surgery What To Expect For The Next Few Days
As you recover from the surgery, a physical therapist works on helping you do some exercises to improve the blood flow and muscle strength. They will suggest specific range-of-motion activities as well. 
Before discharging you, the physical therapist will instruct you on the daily exercises you should do at home. They will also tell you how much weight the leg can take and precautions while sleeping, sitting or bending. Your surgeon suggests how long the precautions need to be followed, ranging from a couple of weeks to a long term. 
Before Leaving The Hospital, An Occupational Therapist Will Help You With Modified Ways Of Doing Tasks Like-
Bathing

Getting in and out of the bed

Bending down to put socks or shoes

Carrying things like food in the house while using a cane or walker

Getting in and out of the car

Getting on and off the toilet
Some Of The Additional Equipment You Might Require Is Mentioned Below-
Raised toilet seat

Toilet grab bars

Shower seat

Cane

A distance grabber

Shoes with elastic or velcro closing
The occupational therapist will discuss your home environment and give you tips on navigating your home and doing daily things. Your pain levels are monitored carefully in the hospital, and accordingly, the medicine dosage is lowered. If you will benefit from further care or need it, the doctor will first send you to a rehabilitation centre. 
Once You Return Home After Hip Replacement Surgery What Can You Expect? 
Initially, it is challenging to do daily tasks like showering, cooking or cleaning. Hence, it is advised that you stay with your family or relatives to help you with the daily routine without any mishaps. 
Supervised physical therapy is given every day until you gain back confidence and are strong enough to walk around on your own safely. Then, on returning home, you must do the suggested exercises daily. They help you increase flexibility and gain the strength of muscles in the new joint. 
Make sure you keep the wound dry until the stitches are removed. 
Following Three Months 
Your leg can take more weight on it as you get stronger. You won't need much help while doing basic chores. A time period of 4-6 weeks is required to start feeling stronger and move around with less pain. Your physical therapy still needs to be continued by attending regular appointments. 
Your therapist will guide you regarding how often exercises and stretching need to be done based on your body needs. 
Staying as mobile as possible can help you with pain and stiffness. Hence, doing your physical exercise program multiple times a day is essential for neat recovery. 
After The Three Months Of Surgery
It still is important to keep doing exercises, gentle movements and walking daily. They help you improve-
Balance

Flexibility

Joint motion

Strength
Each person is unique, so ask your doctor or therapist to evaluate your needs. Then, based on the progress you show, they can suggest newer exercises. 
At this point, follow up appointments and examinations are vital so that you know how you are recovering and preventing any complications. You are most likely to be back to normal within 4-6 months after the surgery, but the weakness and pain around the hip might last up to 2 years. 
Why Choose Us?
The German spirit of "Precision and Perfection" is followed to the core at Germanten Hospital. Dr Mir Jawad holds expertise with advanced German multi-speciality orthopaedic technology, and partnering up with the experts from Germany ensures the best possible care for our patients. 
Our experienced professionals have treated and provided orthopaedic patients with outstanding and cost-effective healthcare for more than 45 years. 
Here Are A Few Accreditations Obtained By Germanten Hospital:
NABH Accreditation:

Obtaining accreditation with National Accreditation Board For Hospitals & Healthcare Providers (NABH) is a privilege. The board confers this accreditation upon a thorough inspection of the staff and facilities possessed by the hospital, clinic, etc. 

ISO Accreditation 9001 : 2008:

Neither Germanten Hospital nor any of our employees have never made any illegitimate claim regarding any step of the medical process. That is why we are a member of the International Society Of Orthopaedic Centres (only 2nd Hospital from Asia with full membership).
Along with the accreditations, Germanten Hospitals have been conferred with various recognitions for our service to the society:
We are the first hospital in Asia to have the German Joint Replacement Technology.

Dr Mir Jawad Zar Khan has been highly regarded for performing 10,000+ joint replacement surgeries.

We are regarded for the highest number of joint replacement surgeries per year in South India.

We have performed more than 2000 Joint replacement surgeries in 2 years. 
So consult with Dr Mir Jawad Zar Khan at Germanten Hospital if you want the best knee replacement surgery followed by unparalleled aftercare.