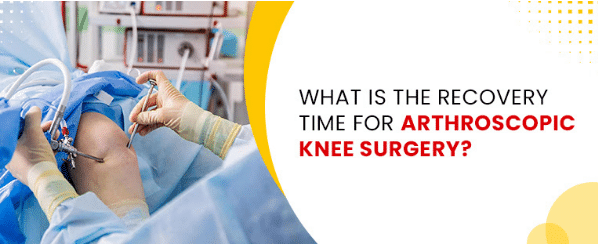 ---
What's The Recovery Time For Arthroscopic Knee Surgery?
Recovery time after arthroscopic knee surgery differs based on the circumstances of the individual. Healing time is affected by age, injuries, health state, the capacity and willingness to complete physical treatment. It is crucial to remember that feeling better might take months. Arthroscopic knee repair is a minimally invasive procedure involving local anaesthetic, tiny incisions, less bleeding, faster healing, and less soft tissue injury.
Arthroscopic ACL Ligament Reconstruction
For healthy, active individuals, the average recovery time for arthroscopic knee surgery is 6-9 months and 6-8 weeks for wounds to heal. Your healing time for arthroscopic knee surgery will include a rehabilitation regimen to help you regain range of motion, strengthen muscles, and restore balance. Rehabilitation begins within a week of surgery. 
Swelling and stiffness are possible side effects for patients. Patients are sent home with crutches, brace and painkillers after surgery. Crutches are required until the patient can walk without limping on the reconstructed knee, which takes around two weeks. 
If the meniscus is torn and repaired simultaneously, crutches may be necessary for a longer time. The arthroscopic knee surgery recovery time with meniscus repair ranges from 12-16 weeks, depending on the patient.
Patients can drive after taking painkillers, but they must wait 4-6 weeks if their right knee is damaged. 
Moreover, if the patient has a desk job, they may return to work after seven days. However, if the patient's work demands a lot of standing, they should wait 4-6 weeks following surgery before returning. 
Arthroscopic Surgery For A Torn Meniscus
Arthroscopic surgery is a popular procedure for removing all or part of a torn meniscus. It is an outpatient procedure performed under local or regional anaesthesia on the same day. Most of the discomfort will fade soon after a simple meniscectomy, but oedema and stiffness will take time to go away. Arthroscopic surgery of the knee recovery time might take up to 4-5 months. After surgery, the patient should be able to bear weight on the knee when standing or walking. 
Crutches are required for the first 2-7 days following surgery. Within 1-2 weeks, you should be able to regain full range of motion. For the first 4-6 weeks, heavy labour or sports may be prohibited. The patient's knee must be immobilised for two weeks following surgery due to the complicated surgical repair of a meniscus tear. Post that, there will be a two-week period of limited motion before returning to normal activities. 
Post-surgery, the patient is anticipated to walk on crutches for 4-6 weeks. Patients who work in a low-impact job can return to work in 1-2 weeks, drive in 4-6 weeks, and return to hard labour or sports in 3-6 months.
Arthroscopic Repair Of Articular Cartilage Injury
The cartilage at the ends of the bones is known as articular cartilage. Trauma or natural wear and tear can cause damage. Arthroscopy is performed to remove loose cartilage fragments. A microfracture method produces tiny holes in the bone marrow of the damaged cartilage to regenerate new cartilage. For the first several weeks after surgery, no weight-bearing is allowed, and the joint must be protected while cartilage heals.
Patellar Tendon Tears
The patellar tendon connects to muscles in the knee and aids in leg straightening. Small rips can reduce the quality of life and make walking difficult, but they seldom necessitate surgery. Instead, the patient will be required to wear a brace and participate in physical therapy for the next 3-6 weeks as the tendon recovers. 
Surgery can be performed as an outpatient operation or a brief hospital stay with a spinal anaesthetic or general anaesthesia. Rehabilitation begins on the surgical table. The patient will require pain medication and cold treatment to decrease swelling immediately after surgery. Sutures will be removed two weeks following surgery.
Crutches are required since the patient will be wearing a lengthy brace or knee immobiliser that goes from the thigh to the mid-calf to keep the leg motionless for 2-4 weeks. Continuous passive movement treatment, which continually pushes the joint through its range of motion, is one type of physical therapy used to recover mobility. The goal of rehabilitation is to strengthen the joints and muscles.
Why Choose Us?
The German spirit of "Precision and Perfection" is followed to the core at Germanten Hospital. Dr Mir Jawad holds expertise with advanced German multi-speciality orthopaedic technology, and partnering up with the experts from Germany ensures the best possible care for our patients. 
Our experienced professionals have treated and provided orthopaedic patients with outstanding and cost-effective healthcare for more than 45 years. 
Here Are A Few Accreditations Obtained By Germanten Hospital:
NABH Accreditation:

Obtaining accreditation with National Accreditation Board For Hospitals & Healthcare Providers (NABH) is a privilege. The board confers this accreditation upon a thorough inspection of the staff and facilities possessed by the hospital, clinic, etc. 

ISO Accreditation 9001 : 2008:

Neither Germanten Hospital nor any of our employees have never made any illegitimate claim regarding any step of the medical process. That is why we are a member of the International Society Of Orthopaedic Centres (only 2nd Hospital from Asia with full membership).
Along with the accreditations, Germanten Hospitals have been conferred with various recognitions for our service to the society:
We are the first hospital in Asia to have the German Joint Replacement Technology.

Dr Mir Jawad Zar Khan has been highly regarded for performing 10,000+ joint replacement surgeries.

We are regarded for the highest number of joint replacement surgeries per year in South India.

We have performed more than 2000 Joint replacement surgeries in 2 years. 
So consult with Dr Mir Jawad Zar Khan at Germanten Hospital if you want the best knee replacement surgery followed by unparalleled aftercare.